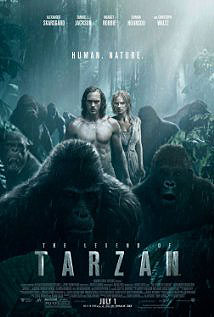 The Legend of Tarzan (2016) Rated PG-13
Starring Alexander Skarsgård, Christoph Waltz, Samuel L. Jackson, Margot Robbie
Directed by David Yates
Reviewed by Dave Felts
Rating: (3.5/5)

I'm not exactly sure when I was bitten by the speculative fiction bug. I think I was around 12 or 13 when I saw my first Conan book, courtesy of the guy running the local planetarium (on a class field trip). He let me borrow them, and I was hooked. Edgar Rice Burroughs followed. I confess to not reading all the Tarzan books (what are there, 23?), but I devoured his Mars and Pellucidar series more than once. Tarzan at the Earth's Core was one of my favorites. I've re-read it a couple of times, although not recently.
I also have fond recollections of Saturday mornings spent in front of the TV during Tarzan Theater watching Johnny Weissmuller swing through the trees, accompanied by Boy, Jane, Cheetah, and Tontu.
The first theatrical Tarzan I recall is the Tarzan the Ape Man, a 1981 fiasco starring Miles O'Keefe and Bo Derreck, which my friends and I saw in the theater. Greystoke came out a few years later -- I thought that one a much better film. I tried to watch Tarzan and the Lost City. That I don't even remember how far I got into it before stopping, and I imagine that tells you what I thought of it.
In a way, I think Tarzan can be considered the first modern superhero. Sure, we've got Beowulf and Hercules and a few others from long ago. The books are dated, and there's no mistaking the casual racism, but movie Tarzan has continued to stay without us even as the decades have passed, showing up in an updated version now and again, keeping pace with the times.
And now we have The Legend of Tarzan, the latest incarnation of the Ape Man. The Legend of Tarzan remains true to a good portion of the source material, but also changes several (inconsequential) things. As in the books, Tarzan (Alexander Scarsgard) is raised by apes in the wilds of Africa after his mother dies and his father is killed. This origin is sketched out in flashbacks, but this isn't an origin film. The Tarzan we have here is middle-aged, having been out of the Jungle for some years and residing in London as Lord Greystoke, alongside his wife Jane (Margot Robbie).
He's lured back to Africa by George Washington Williams (Samuel L. Jackson), who tells seeks help to resolve the slavery of the Congolese. Once in Africa, Tarzan falls into a plot masterminded by corrupt a Belgian named Captain Léon Rom (Christoph Waltz), who has promised to deliver Tarzan to and old enemy in exchange for diamonds he plans on delivering to his king, said diamonds intended to finance an army the king plans on using to subjugate the entire region. To that end, he plans on capturing Tarzan for delivery, and when that fails, he settles instead for kidnapping Jane, figuring Tarzan won't be far behind.
So… is it any good? All I can say is that I enjoyed it, but don't look for it to be on any award nomination lists. I did have a few issues. The first is the story, which turns out to be a by-the-number rescue. Jane gets kidnapped, Tarzan goes after her, steamrolling over everything in his way. Which brings up another thing that fell flat and that's the character of Jane. Other than being there for Tarzan to save, she didn't have much purpose and wasn't much of a character.
Where the movie worked great for me was Skarsgard as Tarzan. I thought he was the best Tarzan I've seen; lean but muscular, sardonic and steady, unrelenting and unflappable. I think he's the best embodiment of the Ape Man to hit the screen. Kudos for that.
If you're a Tarzan fan, you have to see it, that goes without saying. I'm not sure this movie will spawn any new converts, however. Those who don't have a history with the Ape Man will enjoy a fairly typical rescue the maiden film a la Taken, where an unstoppable force runs into (and over and through) people trying to stop him.