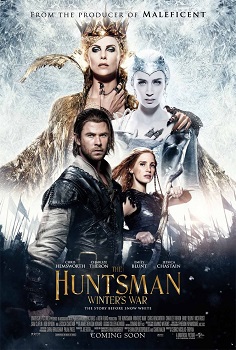 The Huntsman: Winter's War
(2016), Rated "PG-13"
Starring Chris Hemsworth, Jessica Chastain, Emily Blunt, Charlize Theron, Nick Frost, Rob Brydon, Sope Dirisu
Directed by Cedric Nicolas-Troyan
Review by Dave Felts
Rating 4/10

The Huntsman: Winter's War is both a prequel and a sequel to 2012's Snow White and The Huntsman.
Here, we're presented with the backstory of Eric, the Huntsman (Chris Hemsworth), who was taken as a child and raised as a soldier in Queen Freya's army. He and Sara (Jessica Chastain) distinguished themselves as the army's best fighters, but ultimately drew the ire of the queen when they fell in love. Freya has a pretty hardcore derision of love, and uses her magic to to destroy their relationship and pit the two of them against each other.
Eric escapes the Queen Freya's kingdom, and that's the end of the prequel part.
The next time we see him, he's already been through his Snow White adventure and has been charged by Snow White with the quest of recovering the magic mirror used by Raveena, Frey's sister. In this journey, accompanied by two dwarves (Nick Frost and Rob Brydon) he encounters Sara. Despite the history between them, they manage to put aside their differences and join forces to go after the mirror, ostensibly to get it and keep it from bestowing power on and corrupting anyone else.
As I watched it, I was wondering, why is Chris Hemsworth in this? Jessica Chastain? Emily Blunt? Charlize Theron? At the moment, these are all A-list stars, and this certainly isn't an A-list movie. All I can think is that there must have been some sort of studio contract or some such that they couldn't get out of. Not that the movie was bad, per-se, but it certainly wasn't a showcase worthy of the star power the occupied the screen.
This is Cedric Nicolas-Troyan's first feature film. He has a visual effects background, and it shows. The visuals are well done and the world and settings well realized. They are the best part of the movie. But it's not enough to drive the story forward and make up for the lackluster and predictable script and uninspired acting.
Like most quest movies (Lord of the Rings anyone?) there's plenty of walking and talking and random monster encounters. Walking and talking is fine when the characters are interesting enough to hold your attention, which, for me, wasn't the case in The Huntsman: Winter's War.
As the end credits rolled, I was left let down. Part of the title is, after all, winter's war. But where was the war? Winter's Battle might have been better. Or Mirror Quest and Sisters Arguing. And the whole animosity Queen Freya holds against love felt ill-motivated and inauthentic.
In the end I think the best two words to sum up the whole thing would be wasted talent.
That's not to say it's unwatchable, although it not worth going out of your way for. When (or if) it shows up on Netflix and Amazon Prime, it's worth a watch for the eye candy it offers, but not much else.