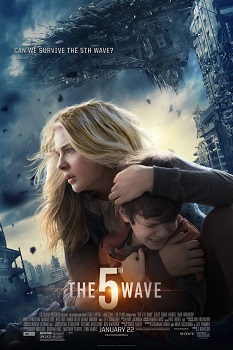 The 5th Wave
(2016), Rated "PG-13"
Starring Chloë Grace Moretz, Nick Robinson, Ron Livingston, Maggie Siff, Alex Roe, Maria Bello, Maika Monroe, Liev Schreiber
Directed J. Blakeson
Review by Dave Felts
Rating 3/10

I haven't read the book (or is it books?) so my only exposure to this reality is through the movie. What we've got here is your pretty typical alien invasion end-of-the-world story, dumbed down to appeal to a younger crowd, primarily by making (as per usual) adult ineffective and children heroes. Nothing wrong with that fantasy, but like any fantasy it needs to be executed in a way that makes it believable, and that's the problem I had with The Fifth Wave.
Here's the thing the creators of young heroes need to consider: Until late adolescence, most young people will not be as strong as an adult. They won't have the experience of an adult. They won't have the judgement of an adult. They won't have the training of an adult. They would generally be a bad investment when it comes to using them for any sort of "military" action. And that's one of the issues I hear, when the youngun's (down to 10 at least, maybe even younger) got all trained up and sent out on a mission. Dumb. The only mission I would send a bunch of kids off on would be 1) one I didn't want to be successful or 2) a suicide mission.
As I mentioned, I had not read the book, so I had no expectations going in. The 5th Wave is about aliens invading Earth. Stupid aliens who have the technology to destroy our power grid, custom-tailored a plague virus, cause earthquakes and other disaster, but evidently aren't able to kill humans very well, or even locate them for that matter. Ever hear of infra-red?
The main character is a teen-aged girl named Cassie Sullivan (Chloe Grace Moretz). When the aliens appear and start attacking, she narrates the first three waves of attack as a way to move the plot forward. The first wave is a global electromagnetic pulse that wipes out all electronics and electricity. Makes the aliens look as though they know what they are up to.
The second wave comes as earthquakes, causing tsunamis and flooding, beginning the destruction of the human species. Another smart move, and one that also implies impressive technology.
The third wave is a biological attack. They alter the bird flu to be deadly. The 300 billion birds spread it and most of the population contracts it an dies. We aren't told exactly how many are left, but some people are immune. Still, not too bad an idea, and one that has the advantage of killing humans without causing damage to the earth, which (I'm supposing) is what the aliens want.
So now most of the humans are dead and all that's left is the clean up, and here's where things get a bit... dumb. Seems the aliens have been planning this for some time and have embedded sleeper agents that are a combination of human and alien DNA. They have been activated and are now running around killing the remaining humans. OK, seems a bit complicated, but whatever. I mean, you're aliens who can cross the inconceivable gulf of space, can't you make some drones or robots or something to hunt humans down? Heck, we can do that now!
Anyway, Cassie, her father (Ron Livingstone), and her brother Sammy (Zackary Arthur) join up with some refugees at a camp. That lasts about a day before the military shows up, led by Colonel Vosch (Liev Schreiber). They are there to help of course, and the first thing to do is save the children. They hustle all the kids onto buses, leaving the adults (and, inadvertently, Cassie) behind. Now we get the revelation of the fourth wave: aliens can possess humans and any human could be an alien in disguise.
The kids arrive at some base and are informed that the fifth wave has begun, that being an invasion by the aliens using humans as hosts. The military has developed way to detect humans hosting aliens and the kids are going to be trained as soldier to fight a war against them.
Please.
That's the best plan the aliens can come up with? How did they ever make it into space? Add in a standard-issue romance and rescue mission and you've got just about every bad trope a young adult story can have.
If you're older than 12, avoid this, unless stupid movies with dumb aliens, a predictable plot, and stereotypical characters is your thing.