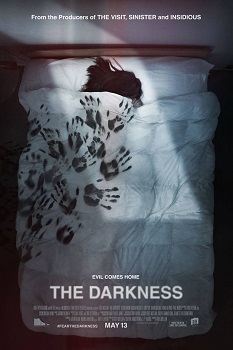 The Darkness
(2016), Rated "PG-13"
Starring Kevin Bacon, Radha Mitchell, David Mazouz
Directed by Greg Mclean
Review by Michael D. Griffiths
Rating 7/10

I going on with my trend of trying to see every movie in the theater that could even be close to a film I might like. Let me add something a little more personal too, if I may. I am also bouncing out of a caustic and long relationship, where my S.O. slowly banned the watching of horror movies first at the cinema and then at home. So I took great pleasure in seeing my first horror movie since the breakup. I was really hoping I would not be let down. I almost felt like a virgin on a first date.
The Darkness delivered. I like Kevin Bacon, even if seeing him look so old made me feel old. Also some serious props for
Radha Mitchell
for being in another horror movie. I respect her scream queen action. She will be permanently leaving her mark on post 2000 horror. She is beyond awesome in my eyes.
As the movie starts, we see hints that this nuclear family has experienced some troubles. The issues range from the mother's alcoholism to an autistic son. The kids wonder off and the son discovered ancient Anasazi artifacts. Five items of evil which will draw fire powerful demon spirits into this challenged home.
The boy begins to summon these beings and this family is drawn in greater danger. Stress builds as the boy lights his room on fire. The ugly scar he leaves becomes a gateway in which the demons seek to enter our world.
The movie gives us some scary tense moments and lets some serious horror fill the screen. Takes a lot to scare this author, but I appreciate their effort. The Darkness is a worthy horror movie and since how bad most of what comes out these days is, they deserve extra credit for bringing things up a notch.
But there were a few issues. First scene they are supposed to be near the Grand Canyon, but nope they are in Utah. Please people, some folks actually live in the southwest and others travel. Do not assume that several million people can be fed a line of bull. Also, and if you have not seen the movie, you will not believe me, the boy walks about a hundred feet from park picnic tables and falls into an ancient ruin. Look I wish Arizona was like that, oh how I wish, but nope. Lastly, the transparent analogy of the demons representing family problems remained obvious.
If you like horror movies, The Darkness makes it happen. It would be a worthy addition to a collection. I am glad to see Hollywood giving the genre the power to hire real actors. I will probably buy this once the price drops and add it to my collection of movies.