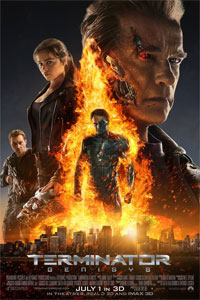 Terminator Genisys
(2015) Rated PG-13
Starring Arnold Schwarzenegger, Jason Clarke, Emilia Clarke, Jai Courtney

Directed by Alan Taylor

Reviewed by Dave Felts
Rating: (4.5/5)
I entered the theater to see Terminator Genisys with trepidation. I was disappointed with
Max Max: Fury Road
. Would the new Terminator movie run roughshod over my nostalgic memories as well?
I was there at the true genesis -- the first Terminator was released in October 1984 while I was a sophomore in college. Some friends and I gathered our meager funds (I think movie tickets were $3 at the time) and saw it at the local theater. Time travel, killer robots, an apocalyptic end of the world, who could ask for more?
Now that the statute of limitations has expired, I'll admit to stealing the movie poster out of the frame in front of the theater on the way out. It hung proudly in my dorm room until it caught the attention of an even bigger geek than myself. I'm ashamed now to say I traded it for two cases of Milwaukee's Best. It seemed like a good deal at the time....
So, 31 years later, it was with no small amount of
sentimental longing and wistful affection
that I settled into my seat to see the latest Terminator offering. Where does the time go?
And...
I thoroughly enjoyed it.
A quick perusal of review sites on the web will show most critics are less than impressed. Rotten Tomatoes shows only 27% of critics gave it a positive rating while a 69% audience score show that most movie-goers had a different reaction.
Like in the original, Kyle Reese (Jai Courtney) is sent back to 1984 by John Connor (Jason Clarke) to save Sarah Connor (Emilia Clarke) from being assassinated by a Terminator. Anyone familiar with the original will notice homage paid in the beginning scenes, but that's where the similarity ends.
Once back in the past, Reese doesn't find a helpless college student part-timing as a waitress. Instead he finds a geared-up and ready-to-go Sara Connor, complete with her own Series 800 Terminator Model 101 (Arnold Schwarzenegger). Seems that in this timeline, Skynet sent a Terminator back even further, to 1973, to kill child Sarah. She was saved by a reprogrammed Schwarzenegger model, who has acted as her protector and defacto father ever since. So she's up-to-speed on the whole situation, including Reese and Terminators and the future timeline.
Sprinkled with references to later Terminator movies, and even the short-lived (but excellent I thought) TV series The Sarah Connor Chronicles, Terminator Genisys explores a new timeline both similar too but very different from the other movies in the franchise.
It was especially fun to see Arnold resurrect his Terminator persona. Old Terminator Arnold versus young Terminator Arnold. What dedicated science fiction fan can say no to that? Arnold says it himself in the movie -- he might be old, but he's not obsolete. I sure liked him a lot better in this than I did in
Maggie
.
Clarke and Courtney had difficult tasks, stepping into already defined roles in a movie that uses the existing Terminator mythos to drive the story. It can be hard to take such roles and make them your own when they have already been portrayed and cemented in the public consciousness.
Courtney seemed to lack the desperation and determination embodied by the original Kyle Reese. The Sarah Connor character here is supposed to be the battle-hardened one created by Linda Hamilton from T2, but Emilia Clarke just seemed too... soft, although her physical resemblance to the Sarah Connor from 1984 is fairly spot on. John Connor has a larger role than I expected going in. Jason Clarke did fine, but I don't think the John Connor character was ever as fully formed as the rest.
Terminator Genisys travels through multiple realities, across multiple eras, and makes references to multiple movies that are sure to be recognized and appreciated by fans of the franchise.
If you've given past Terminator movies a chance and aren't a fan, this movie probably won't change your mind. If you aren't a fan, but want to be, do yourself a favor and watch the original Terminator from 1984 and T2 from 1991. Having those fresh in your mind will make Terminator Genisys even more fun.


Edited by Dave - Jul-06-2015 at 9:14am