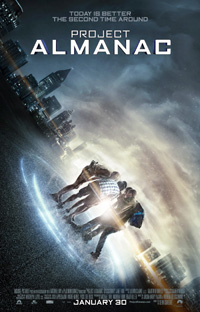 Project Almanac (2015) Rated PG-13
Starring Sofia Black D'Elia, Jonny Weston, Allen Evangelista, Sam Lerner, Virginia Gardner
Directed by Dean Israelite
Reviewed by Dave Felts
Rating: (2.5/5)
What would happen if five teenagers managed to build a time machine? Nothing very original apparently.
A high school nerd, David Raskin (Jonny Weston) dreams of going to MIT. He and his nerdy friends Quinn (Sam Lerner) and Adam (Allen Evangelista) are up to all sorts of nerdish hi-jinks, dutifully recorded by David's sister Christina (Virginia Gardner).
David's father is dead (one or both parents being dead is practically a requirement in any sort of Young Adult offering) and while poking through some of his father's old project stuff in the attic (Dad was apparently a nerd as well) David and Christina discover an old video camera.
Despite being in the attic for the last 10 years, the battery still holds a charge, so they fire it up to discover footage from David's 7th birthday party, the last time David ever saw his father. But wait! What's that in the mirror? Why it's David, present-day, seventeen year-old David, evidently an attendee to his own years-ago birthday. He also has an expression of near panic, which doesn't bode well....
This leads to the siblings going into the basement to their Dad's workshop, which has amazingly remained locked and undisturbed for all these years. The open the lock, go exploring, and (let's shorten it up here) find some sort of what they call a "temporal displacement device". Dad worked for DARPA, see, and after dying no one bothered to show up to get back all the top secret project stuff he was working on. Not that you're actually allowed to take any sort of Top Secret stuff out of a secure facility... but I digress.
Cue the tinkering/experimental montage as David and his super-friends -- including new addition Jessie, who inserts herself into the group after they use her Toyota hybrid battery as a power source -- figure out how the thing works, with complete disregard for personal safety. I dunno about you, but if my experiment to send a toy car back in time ends up with the toy car embedded in the concrete wall of my basement, I'm going to be reluctant to try it on myself.
But maybe that's just me.
Anyway....
They get the time machine working and immediately begin to use it for the most mundane and boring of purposes -- which is actually pretty realistic, since that's probably what teenagers would do if they actually had a time machine. You know, go back in time to go to the big party they missed the first time, pass an exam they originally failed, stand up to the class bully, sort of win the lottery... you know, big, world-changing stuff like that.
They've evidently never watched other time travel movies, or they'd know that sooner or later all their timeline tinkering would catch up with them, and not in a good way. Cue the mad scramble to set everything right.
Despite (or perhaps because of) being a long time staple of science fiction, time travel stories have a lot of built in considerations and theories regarding alternate timelines, temporal consequences, and paradoxes. Like most time travel stories, Project Almanac deals with these mostly by ignoring them.
Nevertheless, the young cast brings an infectious energy and a refreshing naivety to the whole situation. The result is fun and watchable, even though it rarely makes much sense.
It's worth noting that this film uses the tried and now trite "found footage" format, the shaky, handheld camera that bounces around enough to require Dramamine. Not bad in and of itself, although I did wonder who was holding the camera at times.


Edited by Dave - Jun-22-2015 at 9:15am