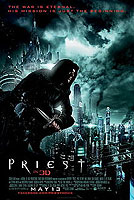 Priest (2010), Rated PG-13
87 minutes
Starring Paul Bettany, Karl Urban, Cam Gigandet, Maggie Q, Lily Collins, Brad Dourif
Directed by Scott Charles Stewart
Reviewed by Jaqhama
Rating: (2/5)

Priest is set on either another world or the Earth in some dark, apocalyptic future, or an alternate Earth at any rate. Never was quite sure about that. Humans have been at war with a vampire race for decades, centuries maybe. Things weren't going so good for the homo saps until they discovered that some of them have almost super human powers of speed, strength and agility.
The ruling religious order, Christian-based by the looks of it, goes around selecting ninja like warriors from among the populace. Why certain humans have super human ninja like powers isn't ever explained. These ninja warriors get all trained up as super ninja warrior priests and then go out and fight vampires.
Despite the beginning of the movie showing humans fighting the vampires with machine guns, flame throwers, grenades and tanks...the final battle wasn't won until the ninja priests arrived on the scene. Like a few ninjas with swords and throwing stars and knives are going to be more effective than whole armies with firearms. There's a lot of WTF type of moments in this movie; best if one just watches it without thinking about the obvious imperfections in script and story line too much.
Yes, there is a story line... it's a post apocalyptic, steampunk powered version of John Ford and John Wayne's The Searchers, the classic western based on the novel by Alan Le May. Right down to the small, isolated western towns and a local Sheriff.
As you can imagine, Priest isn't anywhere close to the original movie or book. In fact when my wife and I watched the 'extras' on the DVD the director is waxing lyrical about the motorcycles and firearms specially designed for the movie and seemed not to realize that they'd created a very steampunky type of set and equipment design.
The best scenes in the movie are the steampunk looking, solar powered motorcycles blasting across a deserted landscape of giant, eerie rock formations.
While there is plenty of action throughout the movie it's nothing we haven't seen and been done with more suspense before.
The vampire creatures are straight out of the DOOM movie.
In Priest, the character played by Carl Urban goes from good guy super ninja to bad guy super vampire in the blink of an eye. I question why? Just because he was turned into a human vampire, he suddenly goes all nasty on us. It's obvious he can still think and feel and act the same as before, except now he's the elected leader for a horde of non human vampires that want to take over once and for all. I really detest weak scripts that gloss over important points like this.
Priest will waste an hour and a half of your life if you've nothing better to do, or you're trapped inside by a hurricane and have run out of good books to read.
To be honest as I'm writing this review the next day I cannot even remember the names of the characters in the movie. I guess that about sums Priest up.
The ending hints at a sequel...
I give Priest 2 out of 5 stars...but only because it featured steampunk motorcycles.


Edited by Dave - Mar-17-2015 at 9:55am