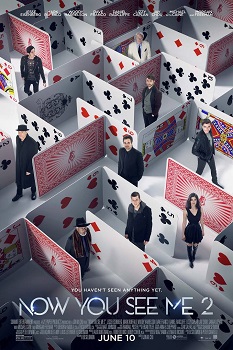 Now You See Me 2
(2016), Rated "PG-13"
StarringJesse Eisenberg, Mark Ruffalo, Woody Harrelson
Directed by Jon M. Chu
Review by Michael D. Griffiths
Rating 4/5

I managed to view Now You See Me 2 with my dad on Father's Day. So after a full meal, we headed to Harkins and even ran into a former co-worker there and we all sat together. So Unlike 75% of the last movies I saw, I was not by myself.
This movie hit it hard with the mind twisting magic arts, hidden plots, conspiracies, and people switching sides. It was sort of like an action adventure for the Illuminati. The characters are fun and likable and Woody steals the show, in my opinion. He had me laughing every few minutes. Harrelson has some profound comedic skills. I do not think he took this movie to seriously and this allowed him to relax and just play up some scenes, which turned out funnier than anything I've seen in a while.
The plot bends and turns. The Horsemen are a secret group of magicians who expose cooperate crimes, more for the fun of tearing them down, than any sense of them moving toward the greater good. But they are backed by a group called The Eye, which could have a higher purpose.
The team is crossed and has some dirty tricks played on them. Blackmail and threats force them into another mission, but for the sake of evil this time. Can the team out trick their enemies when they are being faced with foes from multiple fronts?
Loads of action here. Fun tricks and a little fighting, but compared to most action movies almost none. Nice to see it is possible to have an action movie without a lot of violence.
Possible downsides of this one might be that the few fight scenes were a little choppy. Some tricks happened a little quickly too and it might have been nice to understand it better. Still this was a fast paced adventure and did not really need to be slowed. It would not have sat well with the general theme.
So if you like a more light hearted action flick, this could be for you. Compared say to any hero movie, this is far less violent, so you might be able to take younger kids to this one. There is good humor here, fun magic effects, loads of intrigue, and action. This could be a good family movie for the parents to see with middle school and high school kids. Heck, I saw with my dad, why not.