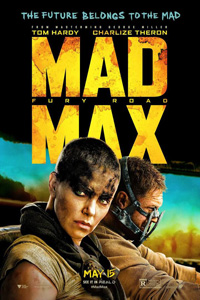 Mad Max: Fury Road (2015) Rated R
Starring Tom Hardy, Charlize Theron, Nicholas Hoult, Hugh Keays-Byrne
Directed by George Miller
Reviewed by Dave Felts
Rating: (2/5)
I saw Max Max: Fury Road this past weekend. I wanted to like it. I have fond memories of my friends and I watching (and re-watching) The Road Warrior on VHS way back in the day. It was one of our go-to movies. When I heard they were going to make another, I was pretty stoked. Tom Hardy, Charlize Theron... nice.
But, like Thomas Wolfe says, You can't go home again....
Did you know that the base of Maslow's hierarchy of needs pyramid is Physiological Needs? Wiki's definition is:
...the physical requirements for human survival. If these requirements are not met, the human body cannot function properly and will ultimately fail. Physiological needs are thought to be the most important; they should be met first. Air, water, and food are metabolic requirements for survival in all animals, including humans.
OK, I hear you. This is supposed to be a movie review, so why am I talking about Maslow?
Bear with me.
Another segue. I saw the Avengers:
Age of Ultron
. I enjoyed it quite a bit. It's a movie with: a guy who turns into a super strong green monster, an Asgardian god, a man in a flying metal suit, another man who's a super-soldier who doesn't age, strong AI.... well, you get the idea. The whole movie is about pretty improbably stuff. I'll even go so far as to say impossible, as in never gonna happen. Ever. But I thought it was pretty good.
So how does that relate to Fury Road?
Despite the impossibility of Age of Ultron, I understood the world they were in and the rules that (mostly) applied. From Maslow's perspective, their basic needs were met and they were free to deal with more esoteric matters, like saving the world from a killer AI. I didn't wonder where they got their food. Or water. Or fuel. Or any other basic necessity.
Which is pretty much all I wondered during the entire Fury Road movie.
The beginning is a bit vague, but Bad Stuff happened and now the world is a wasteland. Seems as though there aren't even ruins left from before. It's all a giant desert (apparently) with virtually no clean water, vegetation, or animals (beyond the occasional lizard or carrion bird (what do they eat?).
So how do people live? Where do they get food? Water? Where do they get fuel for their vehicles? Oil? Parts? Tires? Why are all the vehicles made out of recycled 1950s cars? Where do they get wood for their cook fires? What are they cooking?
The problem I had with Fury Road was that no one would be alive based on the world created in the movie. So the whole idea of the movie is dumb and unconvincing, because the environment/setting doesn't satisfy the first level of Maslow's hierarchy of needs. Nobody (supposing anyone was even still alive) would be the least bit concerned with anything above the first level.
Since I couldn't believe the world would even exist as it was portrayed, I wasn't able to suspend my disbelief for any of the rest of the movie.
It wouldn't have been too hard to set up something to make it look as though all the action made sense. Maybe the occasional oasis, maybe some animals still running around. Something to let me know that they wouldn't need to spend all their time just trying to get from one minute to the next. Which they wouldn't, really, Because they would all be dead.
Maybe I'm just not as good at suspending my disbelief as I used to be. Give them food, or the only thing the movie could possible be about would be people fighting to get food. Same for water. Same for clothing. Same for shelter. Once the population has all that, I'll accept that they'll start running around in modded vehicles killing each other. And even then, I've got to know where they get their gas, parts and oil, or the movie still wouldn't make much sense unless it was about fighting to get the last bits of gas, parts and oil (like the The Road Warrior was pretty much about).
Also, if you have enough fuel and supplies to travel for 160 days (really? where are you carrying it all?) and you're headed out into the "salt"which no one has ever managed to cross (I'm assuming it's the bed of the dried up ocean) don't tell me "we'll never reach the other side". News flash dumb-ass. If you travel 156 miles a day, you'll go around the entire world in 160 days. Even if your average speed is only 20 miles an hour, you'll do that in about 8 hours a day. Also, I realize you're on motorcycles, and maybe they even get 75 miles a gallon, but even so where are you carrying the approximately 341 gallons of fuel PER MOTORCYCLE that you'll need to drive 160 (@156 miles per day) days? And assuming 64 ounces of water per day (which is low in a desert environment) where are the 80 gallons of water PER PERSON? I won't even get into food or flat tires.
And if all the oceans are dried up, and all the vegetation is gone, where does oxygen come from?
OK, I'm ranting now, but that's how I felt pretty much through the whole move.
It's hard for me to judge with any accuracy the reaction younger people might have. I've lost that point of view forever. But I think it's too bad Fury Road is rated R, since it seems to me the best age group for this would be 13 - 18 year-old guys who still think it would be cool to wear black leather, rip around an apocalyptic world in a souped up car or motorcycle, and blow stuff up.
Maybe I'm just getting too old for mindless action movies.


Edited by Dave - Jul-06-2015 at 9:12am