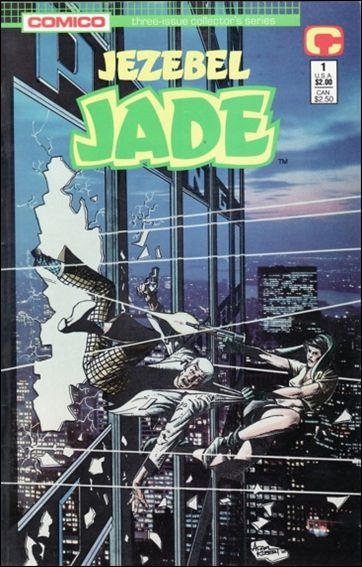 Jezebel Jade
Published by Comico Comic Company
32 pages
One of my all-time-favorite comic book stories is Jezebel Jade. If you recognize the name, then you've probably seen at least one of the only two Johnny Quest episodes in which she appeared. And, I'm talking about the original '60's series, not the one produced in the '90's.
In this three-issue miniseries, produced by Comico in 1988, Jade is a professional thief who, after a near-bungled burglary, impersonates a mysterious woman dubbed "The Witch of The East," and, as a result, unwittingly gets involved in a case with a young American government agent named Race Bannon. From that moment, the story comes hard and fast.
Writer William Messner-Loebs pens a wonderfully engrossing tale that holds the reader from beginning to end. He adds a great deal of complexity to an otherwise-underused character in Jade, and even manages to give insights into a young Bannon that 26 episodes of the initial JQ series did not. Loebs also creates great character interaction between the two, as the tension they feel toward each other is as strong as the attraction.
The artist for the series is well-known fan favorite, Adam Kubert. Son of artistic legend Joe Kubert, Adam's talent is evident in this, one of his earliest endeavors. His knack for action sequences, as well as humor and more subdued scenes of romance, would do any artist proud.
And, while his early work shows a marked influence of his father's style, there are also plenty of instances of stand-alone artistic brilliance that is pure "Adam." This truly is a series that's as fun to look at as it is to read.
Jezebel Jade, while not recommended for the youngest of readers, is definitely suggested for everyone else, especially if you enjoyed Johnny Quest as a kid, or even now as an adult. I know I do! Back issue prices vary, so shop your local comic book retailer, as well as online retailers and auctions.