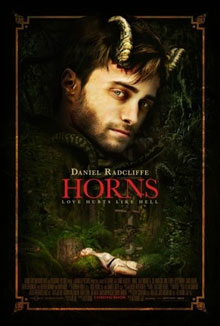 Horns (2013)
Rated R
Starring Daniel Radcliffe, Max Minghella, Joe Anderson, Juno Temple
Directed by Alexandre Aja
Reviewed by Peter Hildebrand
Rating: (2/5)

Daniel Radcliffe continues to take steady work in his post-Harry Potter career, positioning himself as an actor with real range and talent. In many ways, Horns was a return to his roots. Both Horns and Harry Potter are fantastical stories adapted from books that are disproportionately popular with millennials. And in both, Radcliffe performs very well.
Horns, based on the novel of the same name by Joe Hill, centers around Ignatius "Ig" Perrish, played by Radcliffe. Ig's girlfriend (Juno Temple) was raped and murdered, and the whole town believes that Ig is responsible. When he starts to develop strange powers and a demonic appearance (including the titular horns), he sets to work using them to locate the actual killer.
The story plays out like a darkly comedic, horror-fantasy, with elements of murder mystery and small town drama. It's an ambitious mix, one that unfortunately ends up feeling muddled. The usage of religious imagery often left me wondering if I was missing something. For example, there's a conniving waitress at a local diner called "Eve's," which has a giant red apple as its logo. The reference is obvious, and yet I struggled to find even the most tenuous connection to original sin, or temptation, or the Garden of Eden, or any part of the Adam and Eve myth. Similarly, some of the townspeople start acting out in ways that seems reminiscent of the seven deadly sins. But this game of attaching vices to different characters dropped off before all seven were accounted for, and it ended up not really adding up to anything. I haven't read the book, so I can only assume that the material is better handled when there's more space to flesh it out.
The central mystery of the story felt similarly cramped and mismanaged. I'm not always the most perceptive person in the audience, and yet I was able to call the ending within the first fifteen minutes of the film. As such, Perrish's ensuing investigations felt tedious. The attempts at misdirection, which came much too late in the movie, registered somewhere between boring and aggravating.
Luckily, the film has moments throughout that partially redeem it. Radcliffe gives a very good performance, far outshining many of his costars. Ig Parrish is a genuinely likely character. When I saw him suffering, I felt for him. As he develops his powers, he takes some opportunities to strike back at the townspeople who have maligned him. And yet these retaliations seem more endearing than vengeful. In one scene that director Aja successful mines for comedy, Ig instigates a brawl between several reporters that are harassing him for an interview. Other moments of comedy like this buoyed my interest, and made up for some of the weaker points.
So will you like this movie? Hard to say. Avid fans of Daniel Radcliffe will (but surely they already knew that). Fans of the book will probably be frustrated by what I can only hope is an inferior treatment of the plot and themes.
At last check, the movie is streaming on Netflix. Why not set aside a quite Wednesday evening and see for yourself?