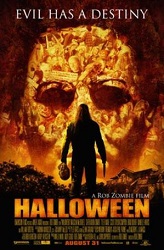 Halloween
(2007), Rated R
Starring Malcolm McDowell, Sheri Moon Zombie, Tyler Mane, Scout Taylor-Compton, Brad Dourif, Danielle Harris
Directed by Rob Zombie
Reviewed by Nicholas Ozment
Rating (2/5):

Three years ago, on a sunny summer day (Halloween was released in August!), I went into the dark to revisit the legend of Michael Myers and relive what happened in the town of Haddonfield, Illinois on that infamous Hallowe'en night thirty-odd years ago?
Re-emerging into the light two hours later, I had mixed emotions. When I first heard of the inevitable remake, I was indifferent. But when I learned Rob Zombie was helming it, I was suddenly intrigued. Here was a true horror aficionado who might be capable of updating the story for the twenty-first century. But Zombie's approach doesn't always mesh with the John Carpenter original, and sometimes the attempted synthesis is downright untenable.
The familiar story is here, but it is truncated to the last third of the film. For roughly the first third, we are introduced to ten-year-old Michael and the blossoming of his violent tendencies. A pudgy-faced, long-haired boy, he looks like the grandson of Meatloaf. His white-trash family unit is comprised of a mother who's a stripper (Sheri Moon-Zombie), an abusive step-dad, a sexually promiscuous older sister, and another sister who is still a baby. He's picked on at home and at school.
The school principal calls in Mrs. Myers because a dead cat was found in Michael's backpack. The principal introduces her to a specialist, and we meet Dr. Samuel Loomis (Malcolm McDowell). Mrs. Myers is clearly in denial--she doesn't seem phased by her son carting around dead animals, and is offended that they would suggest her son may not be perfectly normal. But the stack of photos of dead animals the principal produces--also recovered from the budding serial killer's possessions--shuts her up long enough to listen to what Dr. Loomis has to say. Alas, it's already too late. While the adults are talking, Michael slips away: he has an appointment with the school bully who picked on him earlier, an appointment that involves a big stick that will soon be dripping with said bully's brains.
Then it's Hallowe'en night--no, not the one we're all so familiar with. Michael, in a clown mask, goes trick-or-treating, then comes home and, for a final trick, brutally renders his dysfunctional family into a dead family. His mother, who is out stripping, is spared, as is his baby sister.
The middle third of the picture shows Dr. Loomis's unsuccessful attempts to get through to the troubled young boy at Smith's Grove Sanitarium. In his cell, Michael takes up the hobby of papier-m?ch?, and takes to wearing a mask at all times. Eventually the boy stops talking entirely, and later forks a nurse to death in the cafeteria, but Loomis is a persistent man, and spends the next fifteen years trying to get into the head behind the mask. Cut to Loomis informing Michael--now a hulking brute played by 6'8" ex-pro wrestler Tyler Mane--that he's finally decided to retire (what he doesn't tell Michael is he's hitting the lecture circuit to promote his new book about his infamous client). Shortly thereafter, Michael is being moved--on Hallowe'en, no less. But we all know more-or-less what happens from here. He breaks his chains, takes out the entire crew of armed security guards, and heads off for a family reunion with little sister.
I won't give a synopsis of the rest of the film, as it fairly faithfully follows the original. What's different at this point is not the story, but the whole tone and atmosphere. Partly this is because it's Rob Zombie behind the camera; partly it's because of the context of everything we've just seen. And this is where it becomes apparent that while this is not your parents' Halloween, that's not necessarily a good thing.
This incarnation of Michael Myers is certainly the most terrifying on a purely physical level--Tyler Mane, his face obscured by a Cousin-It head of hair and, later, by the famous mask that seems a hybrid of William Shatner and a vampire mime, is an imposing presence. And when he busts through doors, walls, chain-link fences, and anything else that gets in his way, we have no problem believing it. But with all the back story, what we have now is a really big serial killer. What we've lost is a sense of the mysterious, of the supernatural--which is, after all, what the holiday, at heart, is all about. Some might argue that Zombie, by deconstructing the character into someone who could potentially exist--in fact, be the next-door-neighbors' kid--has made him scarier. But no.
It doesn't work here, maybe because Zombie wants to have his blood-pie and eat it too. The original Michael Myers was an inexplicable force of evil, "The Shape," "The Bogeyman." Zombie naturalizes him into a "normal" psychopath. Which maybe could work, except it seems to me that it raises another problem, and it's my biggest issue with the movie. After taking pains to portray Michael as a royally-messed-up, but human, kid, Zombie cops out. With guys like Jason Vorhees and the original Michael Myers, we don't really question how they can keep coming back from the dead and popping up anywhere without warning, because they're somehow other-than-human. But if Zombie's Michael Myers is just an insane guy, how the hell does he know who his sister is and how to find her? How does he get around without drawing attention to himself, and show up when and where he does? Since Zombie's taken pains to "humanize" the character, now we do question such implausible stunts.
Zombie knows the classic films; he's worked in homages to them in all his own. Here he has children watching Hallowe'en movie matinees on television, so that we get glimpses of scenes from such classic horror flicks as The Thing from Another World, Dracula, and The House on Haunted Hill. But rather than try to capture some of the eerie atmosphere of those classics, he simply ups the sex and violence quotient. There's lots of sex, and nude women who are subsequently murdered. In fact, probably the most persistent image in this movie, aside from the mask and the knife, is bloody breasts.
The movie also eschews the suspenseful atmosphere of the "build-up" that the original fairly dripped, in favor of a relentless bombardment of one graphic and prolonged killing after another. Many scenes are quite disturbing, but they never evoke the suspense of "What's in the closet?" or "Who's outside the door?" Instead they bust the door down and go straight for the gut. Zombie's modus operandi seems to be one note: turn the stomach. Stephen King talked about three levels of horror in his seminal book Danse Macabre, noting that the highest and purest level is true horror--dread, fear of the unknown. Next down is terror, suspense. Lowest in this hierarchy is "the gross-out." That one is easiest to achieve, and it's what too many directors go for these days, in the era of "torture porn." It may elicit gasps from the audience, but it's not going to haunt them in their dreams, or when they're sitting alone in a dark house on Hallowe'en night.


Edited by SFReader - Jul-08-2016 at 8:14am