Were back! Happily, after a too long hiatus from this column, Lady E. and I have returned with a feast of excellent short fiction for our readers. Though we may have been negligent in posting reviews recently, weve been scaling a veritable mountain of short Speculative Fiction, and were elated to report our personal discovery of some highly talented, exceptionally promising new writers, some of whom we are pleased to review in this installment.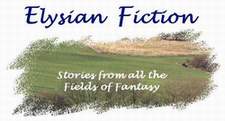 Whether youre skeptical of the big four pubs and worried that short Spec Fiction is on a downward path, or a wild aficionado searching for your next SF fix, youll find much of merit and some pleasing surprises at one of our favorite online venues, Elysian Fiction.
To be sure, Elysian Fiction suffers from some of the annoyances typical of the small press. One can never be sure when or if the latest issue will be posted, there is sometimes an unevenness to the technical prowess of Elysian Fictions contributors, and one wonders whether or not Elysian Fiction is being regarded, at large, with as much interest and enthusiasm as it deserves...
Despite these hurdles, Editor Jim Bailey has created a fiction website well worth bookmarking and perusing on a habitual basis. Two aspects of Elysian Ficion that deserve praise are its accessibility and clean presentation. There are no pop-ups, no ads, no this, that, or the other to distract you from the fiction at Elysian Fiction. In addition, the site is set up so that stories may be custom formatted and easily printed. For issue #3 (which posted last December) Editor Bailey frames his table of contents between two brief, very spirited, editorials -- and offers a selection of ten mostly outstanding stories for your entertainment and sometimes amazement.
Fiction ranges from novella length High Fantasy to short-short humorous, contemporary Fantasy -- and the technical adroitness of the writers displays an equally wide range from highly polished to rough. In the end, the honesty of the writers and the range of imagination offered almost always overcome whatever objections one might have to the occasionally bumpy narrative technique.
A good case in point is The Wish Giver, by E. Catherine Tobler. This is a fine, imaginative piece with stretches of lyrical grace in its narration, though one occasionally feels the roughness of the prose more so than its polish. The story concerns Tam, a medieval-ish juvenile delinquent who has made a habit of stealing coins from the village wish fountain, motivated it seems by equal portions of greed and antisocial angst. When Tam begins to hear the coins speaking, revealing the wishes made by his fellow villagers, a dialogue with his conscience is initiated, leading to some expected and unexpected consequences. The main problem with the storys narration seems to be its ambiguous hovering between a mature and young adult tone. Overall, Tobler seems to be reaching for a lyricism and tenderness that will appeal to the adult reader and tease them toward a sense of communal sacredness and compassion for others; however, there are a good many passages that seem to slip over into a young adult style of narration and these passages distract from the otherwise gently admonishing and instructive fable. Still, a delicately imagined piece, well worth reading.
Another somewhat roughly penned, but intensely satisfying story is Hall of the Spring Wind, by Fiona Avery. This Japanese Fantasy concerns the perennially present last of the Samurai protagonist, this time named Yamaoka Teshu, who, due to Averys expert characterization, attains both credibility and reader-sympathy despite the dangers of clich. In fact, it is Averys handling of her protagonist that elevates this piece from its expected trappings, and, in the end, invigorates the story with the glitter of legend. I found the climax of the story exceptionally potent even though it concerned an expected duel between Teshu and his former Master, Asari Giumei. There is something acutely powerful about Averys handling of action sequences, which seem to explode with color and emotion. It is very difficult for a writer to synchronize a characters internal struggle with outward action, especially in tales of heroic adventure, while achieving a fresh synthesis of motivation and action. Avery, despite some weak sub-plotting, and negligible minor characters like Hope Faerworld, an allegoric persona who represents the influence and dangerous seduction of the West, offers an exciting and emotional synthesis of character struggle and heroic action, with an enticing vision of History and tradition enchantingly in tow.
For standard fantasy fare, James A. Hartleys The Devils Within offers a desert-quest setting with Hawk the swordsman sent into the wasteland to slay devils at the behest of his tribal shaman. A pleasant, escapist read that offers little in the way of innovation or surprise, but does offer some eerie moments around the cookpot of the Dead.
Elysian Fiction #3 offers three novella length works, which resist detailed discussion in this column due to space constraints: Elaines Isaaks Winning the Gallows Field, Glen Hamiltons Wisdom, and Lawrence M. Schoens, Golem Summer. All three of the novellas are well worth reading, although all three also display some rough patches of narration. We found Golem Summer a quite interesting riff on the golem theme, which has lately been celebrated by many in regard to Jeff Fords story from F&SF May 2002, Creation. Fords story is much smoother in terms of technique and focus of plot. Nevertheless, Schoens golem story plumbs a darker and more difficult task than Fords, laying aside the ambiguity of Creation for an outright mysticism, which teems with excitement and peril. Schoens story (unlike Fords) is slightly marred by repetitiveness and excessive length, but is still well worth perusing.
Levity -- albeit of the dark variety -- leaps in via two contributions to #3 by Charles Langley and Jackie Ramirez respectively. One notable point is that newcomer writers penned both of these stories and both authors achieve their purposes, if perhaps with less aplomb than the most exacting standards of technique might demand. Langleys tale considers Death-as-a-persona coming to claim one Willie Joe Orbis, who unbeknownst to the Grim Reaper has made a tricky pact with Deaths Grandpa, and thus proclaims himself immune to mortal time. There is a good pace and tenderness to this story, but for the most part, nothing unexpected takes place, and the tales denoument is unlikely to surprise all but the most inexperienced readers. Ramirezs tale, Gorillas in Our Midst is an odd little story, bordering on Absurdist fantasy that concerns a womanizing neo-celebrity, Adam Canter, whose claim to fame is the capture of a giant Gorilla, named Kong, of course, from a tropical island. Ramirez turns the tables on her protagonist with humor and wastes no words along the way.
Elysian Fiction distinguishes itself not only by offering a wide-range of Fantasy flavors, but by introducing some welcome new blood into the field. Two of issue #3s contributors, Cory Tamler and M. Bennardo, display not only imaginative gusto and emotional honesty -- but startling and sterling narrative technique, as well.
Hunting Down the Moon, a contribution from Cory Tamler, a high-school junior, offers some of the most pleasing prose weve encountered at Elysian Fiction. Building from an eccentric and unexpected premise, that of a Jeckyl and Hyde-ish canine with a mysterious master, Tamler weaves her tale with astonishingly fresh language, metaphor, description, and dialogue -- all the while steering her protagonist to a coming of age climax that resounds with much more sincerity and emotion than the a good number of these types of tales, which are always available in abundance both in and out the short Spec fiction field. Tamler fires impressively on all cylinders here, from control of language to characterization, through theme and nuances of crisis. However, it is her linguistic creativity and her insight into the use of metaphor that deserve special mention. One could dip into almost any paragraph of Hunting Down the Moon and find something worthy of praise. The following is a short excerpt of a descriptive passage, which is typical of Tamlers wonderful prose, If that day had been damp, the night was a sopping blanket. It seemed as if there was a thunderstorm frozen, hanging midair, so that the droplets of rain smacked you in the face and all over the body when you walked into them, like mist only wetter and stranger. My window was dripping with dark tears, shutting out most of the outside world except the cold smear of the full moon on my window, blurry through the droplets.
Hunting Down the Moon is a debut story that portends much brightness for Tamlers future writing and we sincerely hope to encounter more of her work as soon as possible. Editor Bailey deserves praise for discovering Tamler and making her fiction available for readers. In this regard, Elysian Fiction demonstrates the indispensability of the Small Press, which offers some fine opportunities for talented new writers, while so many of the prestige pubs, preoccupied as they are with featuring proven talent, have precious few spots for introducing new writers.
Another great story from a new writer (at least new to us) is One More Lonesome Bluegrass Album, by M. Bennardo. This tale, written in evocative Bluegrass dialect is a marvel of sound, sight, and emotion. Divided into 13 sections, or tracks, Bennardos account of the Devil in the Bottoms, ghosts and hollows its way through an erotic/demonic landscape, climaxing in thorny and bitter wisdom. The story, admirable not only for its narrative technique, successfully infuses the spirit and flow of Bluegrass music and culture into a Speculative Fantasy setting. One More Lonesome Bluegrass Album may have benefited from some slight pruning as the climax and resolution of the story seemed a long time coming and difficult to discern beneath the gossipy hill-speak of the storys narrator; nevertheless, the meandering telling of the tale is correct for its theme and setting.
Taken as a whole, Issue #3 of Elysian Fiction is a diverse and entertaining collection of short Spec Fiction. Edited with care and consideration for the reader, this e-zine deserves your attention. Best of all, you dont have to spend a penny to read Elysian Fiction, though the quality of the fiction is certainly as strong as much of the fiction youd pay to read.
Our

Brand Award for this column goes to Corey Tamler for her story, Hunting Down the Moon. It is not often that we encounter a young writer so full of promise and imagination so it is with genuine pleasure that we bestow our Brand on Ms. Tamler. We wish her much success with her future writing and will stamp our Brand beside her name whenever we should be lucky enough to feature her in this column in the future.
Until Next Time,
Daniel E. Blackston