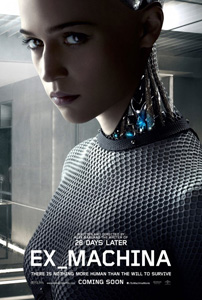 Ex Machina
(2015) Rated R
Starring Domhnall Gleeson, Corey Johnson, Oscar Isaac, Alicia Vikander, Sonoya Mizuno
Directed by Neill Blomkamp
Reviewed by Dave Felts
Rating: (4/5)
Movies about Artificial Intelligence have been around a while. I'm not sure what the first one was, but in 1968, 2001: A Space Odyssey introduced HAL. The first movie that made an impression with me was WarGames in 1983. Then you've got the Terminator franchise, A.I., I, Robot, The Matrix, Her, and a whole host of others.
Most of these films have an already developed A.I. as the adversary with humans struggling to resist extinction at the hands of the machine intelligence. The genesis of that intelligence, for the most part, has already taken place, and now we're dealing with the aftermath. I can't recall any movie that actually looks at deciding whether or not the machine intelligence is actually intelligent and free thinking.
An that's what Ex Machina does. We're introduced to a machine intelligence, but is it really A.I.?
Caleb (Domhnall Gleeson) is a computer programmer who works for Bluebook, the film's version of Google and the most widely used search engine in the world. He "wins" a company-wide contest, the prize being getting to spend a week with the company's reclusive genius CEO Nathan (Oscar Isaac) at Nathan's isolated mountain home, which is also a research facility.
It's a working vacation, however, and upon arrival, Nathan presents Caleb with a task -- perform Turing testing on an artificial intelligence he developed to determine if it's true A.I. and if it's self-aware. Thus we meet Ava, the humanoid robot built by Nathan that houses the A.I.
If you aren't in the know, the Turing test is when a tester interrogates the A.I. to judge, from its responses, whether or not it is human. In a true Turing test, the human doesn't see the A.I. and thus doesn't know if he or she is talking to a person or a machine. Here, Caleb already knows he's talking to a machine; knowing such, will he come to see Ava as intelligent and free thinker? Her own "person" despite her origins?

Thus starts a cat-and-mouse game, with Caleb asking questions of Ava, while at he same time Ava asks questions of him. Over all this is Nathan, who seems to be manipulating them both. But who is manipulating whom?
Does Ava have her own goals and agenda? Does she feel? Is she self-aware? Does she think? What is thinking beyond a reaction to external stimulus? Yes, she a robot, she's "programmed" but how is that any different than our own organic "programming"? The astute example provided here is sexual preference. Are you primarily heterosexual or homosexual? Did you decide to be that way, or were you programmed?
Maybe the truest indicator of a self-aware intelligence is a desire for survival. Or maybe the ability to deceive. Perhaps it's convincing others to do things that serve its own purposes. To do so requires not only an awareness of your own desires, but also the desires of another person, and the facility to falsely give them what they want with the ultimate goal being to get what YOU want. Right now, I think only humans are operating at this level.
Ex Machina is solid entertainment that asks some pertinent questions about the nature of intelligence, emotion and motivation.
It's got some robot boobies in it, and some violence, but nothing too extreme, making it suitable for around 15 and over despite its R rating.
One thing that jumped out at me was Nathan's justification for creating Bluebook. Most people, Nathan says, think Bluebook exists to give them information, but what it's really doing is collecting information about them.
So think about that the next time you use Google.


Edited by Dave - Jun-22-2015 at 9:14am