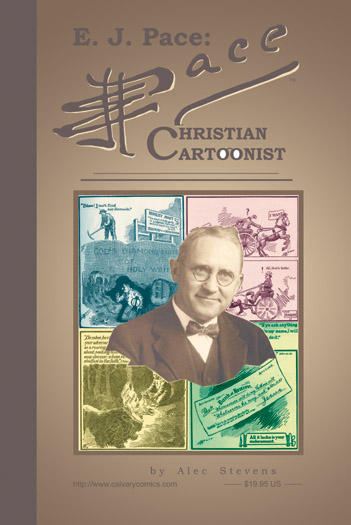 E.J. Pace: Christian Cartoonist
Published by Calvary Comics
248 pages
$19.95
As a committed fan of comic strips and comic books, I'm interested in the influence of those media, both past and present. As an even more committed Christian, I'm fascinated at how they have been used to communicate the message of the Bible. E.J. Pace: Christian Cartoonist, by Alec Stevens, helps satiate both interests.
Pace was a dedicated theologian, as well as a gifted cartoon artist. His single-panel combinations of words and pictures ably communicated powerful points, and, for decades, moved many people to staunch commitment in their Christian values.
His sketchy style, full of cross-hatching and abundant dark shades, was highly realistic and emotionally resonant. It also contained an authoritative quality which lent his work an influence not often seen in the labors of most strip artists.
When one considers the emotive nature of his work, and that it appeared prominently in publications by Moody Press other Christian publishers throughout the 20th century (primarily early 20th), both nationally and internationally, Pace's massive influence as a cartoonist cannot be denied. His work has been seen by tens of millions over the decades. Perhaps more.
Author Alec Stevens is to be commended for his work in gathering so much of Pace's material, as well as his meticulous attention to the cartoonist's professional life. A more complete undertaking I cannot imagine.
E.J. Pace: Christian Cartoonist is recommended to any and all fans of the history of comic strips. Even those who do not agree with the Christian viewpoint will gain insight into the past influence of the medium. And, perhaps, it's possible influence in the future?
Find it at
www.calvarycomics.com
(Apologies to Alec Stevens: This review should never have taken so long.)
Review by Mark Allen