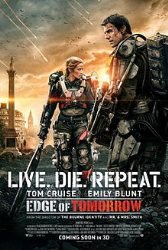 Edge of Tomorrow
(2014)
Running Time: 113 minutes
Rated: PG-13
Director: Doug Liman
Writers: Christopher McQuarrie, Jez Butterworth, John-Henry Butterworth
Starring: Tom Cruise, Emily Blunt, Brendan Gleeson, Bill Paxton
If I had to describe this as a pitch, I'd go with "Groundhog day meets Starship Troopers" and I don't think I'd be to far off.
I think Cruise gets a hard time. So he jumped around like a psycho on a couch, so what? Yeah, he's in a cult, but they've never knocked on my door and tried to get me to convert. A quick Google search will turn up more than one good deed done by Cruise. So let's put the personal stuff aside for a moment. I like most of the movies he makes and appreciate that he's out there producing and starring in some big budget Science Fiction stuff. Oblivion, Vanilla Sky, Minority Report are all very watchable and build on some interesting ideas.
Likewise for Edge of Tomorrow. Earth has been invaded my aliens and Tom Cruise (William Cage) and Emily Blunt (Rita Vrataski) are the only ones who can save the world. And they do it in some really cool powersuits too. The twist is that they get the chance to keep repeating the same day over and over....
This repetition is well handled and the reason for it comes from an unexpected source that you get to discover along with the characters.
The movie begins with news clips about the world being invaded by aliens we've come to call Mimics. They've conquered most of Europe, and humanity is about to make a last ditch effort in an all-out assault. Everything, including the fate of humanity, is on the line.
Cage is a public affairs officer for the military, more comfortable being in front of a camera than on the front line. Nevertheless, he's ordered by General Bringham (Brendan Gleeson) to film the storming of the beaches of France as the humans begin their push to take back Europe. Cage declines the assignment and the result is him being charged with desertion and shipped off anyway, sans training or any other combat experience.
Master Sergeant Farell (Bill Paxton) quickly tosses him into the mix without much concern for Cage's protestations. We're treated to a well-done battle scene that makes it apparent humanity is pretty far outclassed. Cage quickly becomes fodder for the Mimics... only to wake up, decidedly not dead, and now apparently living the same day over and over.
Fun stuff as Cage learns to use the powersuit and seeks the help of Rita Vrataski (Emily Blunt), a hardcore combat vet known by the moniker The Iron Bitch who was single-handedly responsible for handing the mimics their last defeat. Cage and Rita take it upon themselves to figure out how to use Cage's unusual ability to defeat the aliens once and for all.
From what I've read, Edge of Tomorrow didn't do that great at the box office. That's too bad, because I really enjoyed watching it, so much so that I've now seen it three times, just to make sure I didn't miss anything.
It has great action, scary aliens, and plenty of humor. Watch it and enjoy. Don't think too hard about it though, or you'll find a few peas under that mattress, as is the case with most science fiction. Easily overlooked if you let yourself get into it.
With a PG-13 rating and a bare minimum of profanity (no F words) it's great fun for anyone from probably 12 on up.


Edited by Dave - Jul-06-2015 at 9:17am