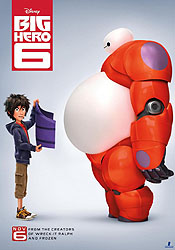 Big Hero 6 (2014) Rated PG
Starring Ryan Potter, Scott Adsit, Daniel Henney, James Cromwell

Directed by Don Hall, Chris Williams

Reviewed by Peter Hildebrand

Rating: (3/5)
We can trace two main threads in the genesis of Big Hero 6, the 2014 Academy Award winner for Best Animated Feature. The first is the acquisition of Marvel Entertainment by The Walt Disney Company. The superhero team of the movie's title got their start in a late '90s Marvel Comic series. The Disney versions of the characters are similar to their comic book counterparts in name only, and notably do not share the Marvel cinematic universe with the likes of Iron Man and Cap. Given that Big Hero 6 is a movie about a pubescent prodigy and a huggable robot, that separation might be for the best.
The second thread is the recent, nationwide emphasis on STEM fields. In the movie's opening scene, we see whiz-kid Hiro Hamada hustling opponents in the underground robot fights of San Fransokyo (the hybrid city that serves as the film's setting). Hiro builds his own robots, and is quite successful, at least until he runs afoul of the law. To entice him towards a more legitimate lifestyle, Hiro's older brother Tadashi brings him to the robotics laboratory at his university. Here we get to meet the supporting cast, and have fun touring their incredible range of technological works in progress. Hiro, who tested out of high school, is told by Tadeshi's professor that he'll accomplish incredible things at the university if he applies himself. The wink to teachers and parents in the audience is merely implied.
It's difficult to tell how sincere the film's creative time is about promoting STEM research and education. The glamour shots of the laboratory are nice, but there's no actual science, no trial and error, no emphasis on problem solving. The few creative processes that the characters do engage in are relegated to short montages. Compare that to say, Iron Man, where we actually get to witness Stark tinkering on his inventions, testing them, and improving on his past mistakes.
On the other hand, the film does a great job showing wunderkinds accomplishing amazing things using only their ingenuity. So maybe Big Hero 6 will serve as dream fuel for the next generation of engineers and scientists, much like Star Trek did for generations past.
Questions of sincerity aside, the scenes in which we get to ogle science fictional toys are some of the most fun in the entire movie. This is doubly true for scenes with Baymax, a Pooh-like medical robot designed by Hiro's brother Tadeshi. Baymax becomes Hiro's loveable but somewhat simple-minded sidekick, and the only interesting side character in the movie. He's amusing and original, and by the end of the movie he's gone through considerably more development than most of his human counterparts.
The end of the first act in a superhero movie generally calls for a personal tragedy, and Big Hero 6 is nothing if not formulaic. Without spoiling anything, the turn of events felt sudden and implausible to me, and it was followed by several emotional scenes that mostly fell flat. Eventually, however, the movie regained its momentum.
The second half of the movie contain some truly great action sequences that showcase dazzling 3D animation. Car chases; superpowered brawls; spectacular, technological meltdowns- these are the strong points of Big Hero 6. Fun and exciting, they're as good as anything you could hope for from a superhero movie.
I'd recommend seeing Big Hero 6 if you're already attracted to it. There's plenty to like, and if you go in expecting to find it, you will. If you're feeling indifferent, or if you're an especially critical moviegoer, steer clear. The flat characters and unsurprising twists will probably grate on you. And until they invent a real life Baymax that can hug your stress away, it's probably best to avoid that.


Edited by Dave - Mar-26-2015 at 7:54am