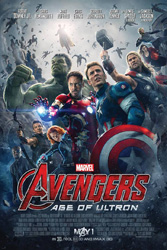 Avengers: Age of Ultron (2015) Rated PG-13
Starring

Robert Downey Jr., Chris Hemsworth, Mark Ruffalo, Chris Evans, Scarlett Johansson, Jeremy Renner, James Spader

Directed by Joss Whedon

Reviewed by Dave Felts

Rating: (4/5)
I've really enjoyed the Marvel Cinematic Universe (MCU) movies over the past few years; seeing them with my teenage son and/or daughter makes them even more of a pleasure.
Avengers: Age of Ultron is no exception. It has everything viewers have come to expect from an MCU movies and a summer blockbuster: large cast of characters, humor, danger, big fight scenes,

villains

, heroes... it's all there.
In reading some other reviews, I've seen come complaints that the combined universe is it's own worst enemy, in that it saps apprehension in that we already know, with a certainly, that none of the major characters is going to die. Thor: Ragnorak is already planned, as is Avengers: Infinity War and Captain America: Civil War. So we know without a doubt that these guys are safe an Ultron fails.
But I think that approach comes from the

perspective

of someone who isn't a comic book fan. In comic books, no one ever dies. And even if they do, it was really just a clone, or a

doppelganger

, or a different body from another

dimension

. Comic book fans know that death is hardly the end-all for any characters.
So knowing that they were all safe from harm, and that the Earth and humanity survive, wasn't a bother to me. I was there for the adventure. Want to see major character get killed? Go watch Game of Thrones....
The story begins with the Avengers hot on the trail of Hydra agents (this is after the downfall of S.H.E.I.L.D. as seen in Captain America: Winter Soldier and further seen in the TV series Agents of S.H.I.E.L.D.). Seems a certain mad scientist type by the name of Strucker has been doing some experiments with Loki's staff in a secret castle, experiments that include creating two enhanced people, the twins we will come to know as Scarlet Witch (
Elizabeth Olsen -- yes, that Olsen
) and Quicksilver (
Aaron Taylor-Johnson
), both of whom bear a pretty large grudge against Starke Industries and, by associate, Tony Starke (Robert Downey Jr.).
With a few hiccups aside, the Avengers defeat Strucker and the twins an

secure

Loki's staff and the crystal is contains. Loki's staff isn't magic after all, it advanced technology, and the crystal contains the framework of a very advanced

artificial

intelligence. Starke sees this

intelligence

as the answer he's been looking for in a

nebulous

effort to

develop

a

sentinel

who can help humanity solve all it's problems and bring about "peace on Earth".
Turns out that to the AI, named Ultron (voice fantastically by James Spader), "peace on Earth" can only be achieved by eliminating all the people, since we're the one that cause all the problems. A classic case of robot AI executing it's prime directive to the nth degree, amirite? Obviously, this isn't the peace Starke had in mind, and, after some finger pointing, the Avengers head off to take down Ultron.
Ultron is a tough old bird though, plus being AI, he's pretty much stashed copies of himself all over the place. And he has the help of the enhanced twins, who are seeking to setting their grudge against Starke Industries. And maybe the Avengers have a bit of hubris as well, keeping them from being the team they're capable of being.
Despite it's size, the movie ends up feeling sort of small. What i mean is that despite being a super advanced AI who's infiltrated the entire Internet, Ultron never really does much. I get that he wants to destroy mankind, but he pick a pretty convoluted an unlikely way to go about it. With all his access and smarts, it seems he could have done a lot more to get us to destroy ourselves, leaving his a few bits to mop up. His plan for destroying the world seemed a bit, well, dumb.
There's also some unnecessary romantic tension that felt manufactured to me. I guess it was supposed to add some depth, and maybe it will play out in one of the future installments. Here, it was like watching a teen movie where neither one wanted to tell the other "I like you!".
But this is a comic book movie, not 12 Years a Slave, so you have to see it through those comic book shaded glasses. From that perspective, it's a real treat. Go see it with the youngster of your choice to make it even more fun. Make sure to wear your Captain America shirt!


Edited by Dave - Jul-06-2015 at 9:15am