I just released another story on Amazon Kindle, only 99 cents!

http://www.amazon.com/Two-Feathers-David-L-Felts-ebook/dp/B00TYM7VC0/" rel="nofollow">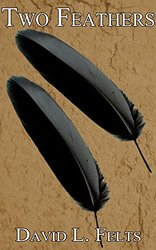 http://www.amazon.com/Two-Feathers-David-L-Felts-ebook/dp/B00TYM7VC0/" rel="nofollow -

"Walter said they're from the Raven and full of power," she'd told him. "When he uses them his spirit becomes like the Raven, like a bird. He can chase the sky and wind."
Timmy had listened, wide-eyed. "They're really magic?"
"That's what Walter said…"
http://www.amazon.com/Two-Feathers-David-L-Felts-ebook/dp/B00TYM7VC0/" rel="nofollow - Click Here to view on Amazon!